Branch Logger for sale Urban SMV70
The Urban SMV 70 branch logger is powered by a 10 hp Briggs and Stratton 4-stroke, single cylinder, petrol engine. It produces logs of between 60 and 130 mm in thickness. Logs fall into bags which measure 60 x 85 cm in size. The machine is supplied with 50 bags and additional bags are available. The Urban SMV 70 will cost softwood of thicknesses up to 75 mm and hardwood of thicknesses up to 60 mm.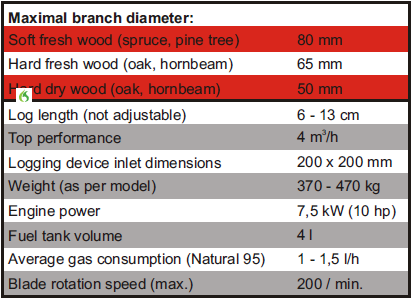 This machine can be towed by a quad bike or small tractor and is robust enough to be taken across rough terrain.
Price List
Urban SMV70 with double bagging for raschle bags.
€4,900.00 ex. VAT                €6,027.00 inc. VAT
Urban SMV70 with belt conveyor 2.1 m length.
€5,800.00 ex. VAT                €7,134.00 inc. VAT
Urban SMV 70 which belt conveyor 2.6 m length.
€5,980.00 ex. VAT                €7,355.40 inc. VAT
Additional options:
Electric starter of motor (battery and accessories are included)
€300.00 ex. VAT        €369.00 inc. VAT
Hour meter
€60.00 ex. VAT                   €73.80 inc. VAT
Additional slide to the belt conveyor, length 0.8 m.
€130.00 ex. VAT                 €159.90 inc. VAT
Double bagging for raschle bags on the end of the belt conveyor.
€333.00 ex. VAT         €409.60 inc. VAT